And the winners of Manchester Animation Festivals 2022 are…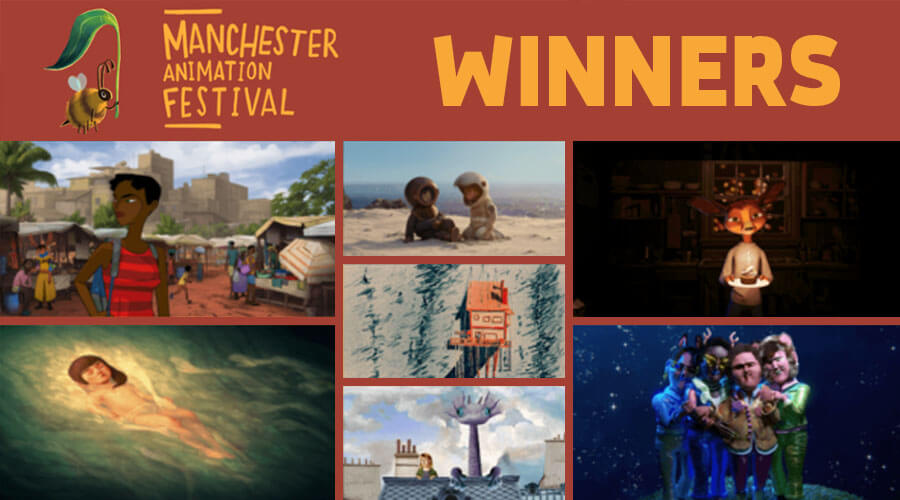 In a grand Festival finale on Thursday, the winners of the 2022 Industry Excellence Awards and MAF Awards were revealed. The ceremony was hosted by the beautiful, multi-award winning actress Amy Gledhill.
The Manchester Animation Festival feature category jury included Kieran Argo (British Animation Awards), Abigail Addison (Producer/Programmer – Animate projects) and Jo Chalkley (Director – Cosgrove Hall Films, Aardman Animationsand Factory).
The category of returning shorts included Hanna Ines Flint (Writer), Ivana Kvesic (Director – Fantoche International Animation Film Festival), and Evgenia Golubeva (director/screenwriter/Character Designer – Disney, Sky Kids, Nick Jr, and BBC).
And the winners are…
FEATURE: NAYOLA
The prize for best feature film was awarded to Nayola directed by Jose Miguel Ribeiro.
Angola. Three generations of women in a 25-year civil war: Lelena (the grandmother), Nayola (the daughter) and Yara (the granddaughter). Past and present links. Nayola goes in search of her husband who disappeared at the height of the war. Decades later, the country is finally at peace but Nayola has not returned. Yara became a rebellious teenager and a subversive rap singer. Lelena tries to contain her for fear that the police will come and arrest her. One night, a masked intruder breaks into their house, armed with a machete. A meeting like nothing they could have imagined.
The jury appreciated the complexity of the representation in this film. It has a strong expressive visual style. The jury also felt that the music and sound design complemented the overall story very well.
SHORT: PAHYDERM
Pachyderm by Stéphanie Clément won the short film prize. The jury said: "Subtle and poetic storytelling to tell a powerful story of survival in the face of abuse and loss of innocence. The animation beautifully, heartbreakingly captured the pain and dissociative nature of the trauma. It will stay with you.
The jury also wanted to award a Special Mention to A guitar in the bucket by Boyoung Kim. They said, "Don't let the cuteness of the animation make you think this short doesn't have much to say about capitalism, community and society – and the artist's struggle. Darkly witty and playful.
AUDIENCE: ICE CREAM MERCHANTS
Selected by the public of the Manchester Animation Festival during the Festival, the public prize is the film that has marked the spectators. ice cream vendorsrealized João Gonzalez was our 2022 winner.
STUDENT: GODZALINA
Godzalina by Lucile Paras won the Student Prize for 2022. The jury said, "A hilarious, fast-paced feminist short that masterfully repurposes traditional art to tell a contemporary story of gender equality."
The jury also wanted to give a special mention to Above the Clouds by Vivien Hárshegyi
They said it was: "A super trippy yet viscerally relatable story that takes us on a hyperbolic cruise through the choppy waters of one woman's love life."
ORDERED: COLD HEART
Pick up the price for the films ordered has been Cold heart by Raman Jafari. The jury said: "It completely warmed our hearts. Campy, chaotic, colorful, a visual feast that had us jumping in our seats.
The jury wanted to award a Special Mention to Head and shoulders: pursuit. They said: A high-octane ride with a plot twist to make you laugh.
IMMERSIVE: OVERVIEW
Insight by Michael O'Connor and Benjamin Cleary wrapped up the jury enough to win the immersive film award.
The jury said: "Building a dynamic world, excellent vocal performance with eye-catching visuals to drive the plot forward in a perfectly entertaining way."
A special mention was awarded to Lavrynthos. The jury said, "Intriguing use of space to tell a classic story with surprising elements, humor and existential questioning."
SHORT FILM FOR CHILDREN:
LAIKA & NEMO
by Jan Gaderman Laika & Nemo won the Children's Short Award. This prize was selected by a jury specially made up of young people aged 9 to 14 from Into Film Youth Advisory Group.
INDUSTRY EXCELLENCE AWARDS 2022
The Industry Achievement Awards are our way of saying thank you to the people who work tirelessly, day in and day out, to deliver incredible work in animation production.
Industry Excellence Awards 2022 jury featured Alessandro Chirico (Art Director, Production Designer and Visual Development Artists – Jellyfish Pictures), Elena Wurlitzer (Development Producer – Jellyfish Pictures), Rahul Dasgupta (Senior Script Artist – Animation of the blue zoo) and Steve Kimbrey (Animator – Animation of the blue zoo). The full list of nominees is available here.
And the awards go to…
SCENARIO WRITING
Alan Denton and Greg Hahn for Botbots' Crime and Bun-ishment'.
STORYBOARD
Estrela Lourenco for 'Crime and Bun-ishment' botbots.
CHARACTER DESIGN
Guia Gandi for The Adventures of Paddington.
CHARACTER ANIMATIONS
Arianna Gheller for Hypno Tidoo.
EVENT HIGHLIGHTS: MAF ONLINE!
We had an amazing time at the MAF 2022 In-Person Festival, but just because the week is over doesn't mean the fun has to stop! The 2022 MAF Online Festival is now live, featuring exclusive content, recorded festival events, all Animation Mixtape screenings (short films) and a selection of New Voices in Animation screenings (student films).
We want to give those who were at the festival a chance to relive some of the events or catch up on those they didn't get a chance to see as well as exclusive content online, and those who couldn't attend a chance to enjoy some of the best events and screenings from the 2022 schedule. See the full lineup online here.
Those with a festival pass can access it for free, you can also buy individual events via the links below or a festival pass online here. But don't wait too long The 2022 MAF Online Festival is available from Saturday November 19th to Saturday November 26th, once you start watching you have 3 days to finish your viewing.